The Arctic monkeys opened the Brit Award Show. James Corden then took the stage with one arm on fire.




Ellie Goulding won Best British female at the Brit Awards. Ellie's second album Halcyon shot to the charts. Ellie school her first number one with burn in August last year.


She took to the stage in a gold dress with a cutout front and heels. The award was presented to her by Prince. James Corden also managed to fit in a cheeky selfie with prince during the live air.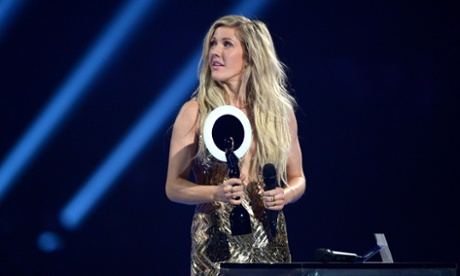 Ellie was clearly starstruck by Price's presence and in true British style she thanked her management team and their passion and consistent effort. Her record label Polydor. Clearly emotional Ellie's speech was short and sweet; this is Ellie's second Brit Award yet she was nominated for four other awards.
Katy Perry took the stage after the first break and put on a real showcase performing of her latest single Dark Horse. Katy always brings a wild extravagant show, this time featuring neon and lots and lots of prints and patterns as featured in her latest music video. That girl loves a theme. Katy's dancers were on hand to bust a move to make up for Katy's lack of dancing talent!
Katie's Egyptian theme went down a storm, however her voice wasn't one hundred percent. She seemed happy with her performance overall. Perry's show spirit makes up for her patchy vocals throughout the performance.
Kylie Minogue wish she could be so lucky and Pharell Williams wants to get lucky.
International Male Solo Artist
Bruno Mars
Eminem
Drake
John Grant
Justin Timberlake
The winner of International Male Solo artist Brit Award goes to Brunei Mars. Bruno enjoys watching Jeremy Kyle when he's in the UK and collected his award with his team. He last won a Brit award back in 2012. His latest album unorthodox jukebox is an international seller. He said it was a pleasure to be nominated along his alongside his fellow nominees He wanted to thank his manager and his label and the numerous people who've helped him on his way and his crew were happy celebrating with him. They then went off to set up for the performance.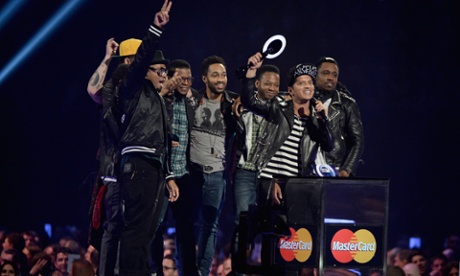 British Breakthrough Act
Tinie Tempah and Fearne Cotton presented this award, Fearne wore a metallic dress with mesh and walkied in heels while Tinie wore his staple suit in cream.
Nominees the British breakthrough act are:
Tom Odell
London grammar
Bastille
Laura Mvula
Disclosure
Winner was Bastille: Dan, Chris, Will and Woody make up Bastille. They thanked radio one listeners for voting.
James Cordon made crude jokes about Justin Bieber with One Direction but put Louis Tomlinson in a very awkward position; it was unnecessary and below the belt there is no need to mention somebody who does not deserve to be in the public eye and is a bad role model.
Bruno Mars performed Treasure. Bruno looked like he was having the time of his life with his instrumental band bouncing about in the background they all wore street-wear hats, caps and beres.
The set had an urban, with the jazz twist feel with bright orange lights. The dance moves were simple; shuffling side to side and the main focus was on the instruments. You can see it's a real team effort he is not a one man band. Bruno Mars has got an likeability you can't deny. He's cute and fuzzy just wanna give him a hug the fact he can sing is just a bonus.
Halfway through the performance they came together as a pack and did these funny little dance moves that was basically shuffling side to side. I bet playing an instrument and marching simultaneously is harder than it looks. The performance was punchily finished off by shouting thank you to the audience.
I honestly wouldn't mind being Bruno Mars's Treasure.
Lily Allen presented the Best British group in an a outrageous outfit looking hot. Walked in time to the sound of her latest track 'Air Balloon' She greated everyone by saying "Hi guys it's nice to be back!" Lily had her hair in a high ponytail with a dip dye yellow ponytail. She wore a dress with yellow, blue and green block blending in like her hair and it finished at me mid length and then had meshed downwards. It was unusual and quirky just like Lilly! Lilly was so overwhelmed to be back that she didn't realise what she had to do first whether she announced straightaway or whether she listened and read out the artists
British group at nominees
Arctic monkeys
Bastille
Disclosure
Rudimental
One direction
Arctic monkeys won the award. It is the third time they've won the award and they looked mediocritly happy.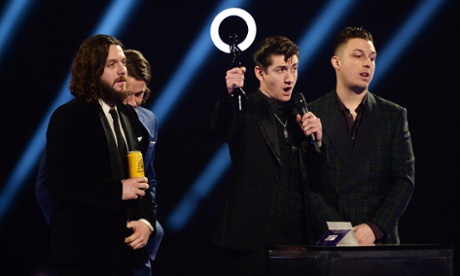 I really dislike the bloke in the middle. Cocky or what.
I really dislike the Arctic Monkeys attitude. The head bloke went up there and said "You don't need to listen to a bunch of names that for you don't know."
I really dislike that, you know, some people really want to express their gratitude to certain people who've enhanced their career and if they want to do so, let them.
When winning an award this should NOT be your reaction.
Critics choice winner Sam Smith.
Previous winners include Florence and the machine, Jessie J and Ellie Goulding, Adele and Tom Odell.
Sam has featured in Disclosure's 'Latch' and Naughty Boy's single La la la. James Gordon recommends 'Lay me down' as a track to listen to from Sam.


Global success award presented by model, Rosie Huntington Whiteley. She wore a red minidress with a belt that clinched her waist, the dress was short with black heels and a black belt, the red sequins made a print, sort of a Tiger print pattern incorporating black. Her hair was down loose on her shoulders.
The winners for global success award are one direction
Is the second time that the boys have picked up this award. Niall approached this stage on crutches after his knee surgery and Rosie was happily giving hugs out and kisses to the boys, she was clearly excited.
Liam took the stage and thanked the international team for their support. Harry was missing from the stage. They thanked the fans and Liam was confused as to whether Harry was coming or not. Harry came running, running, running on stage "Here he is" Harry apologised for not being on stage, he'd popped to the loo yet not realised how far away it was he then preceded to ask Louis what they'd one won.
Oh to be a superstar.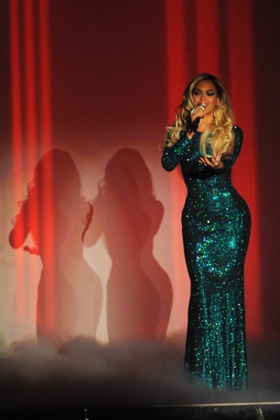 Is been a decade since Beyoncé graced the Brit stage. Beyoncé wore a blue sequined gown, her blonde hair resting over her shoulders and the blue dress sort of appeared turquoise and twinkled in the bright lights. She wore silver rings and held her silver microphone.
It was a figure hugging dress that really suited her body shape.
This performance was much better than the Grammys one. It was much more tasteful and showcased her voice well, The gospel back sound sounded really really good and suited the tone of her voice.
She sung XO it's nice to see her showcase her voice in a positive way and show that she can sing seeing as opposed to being looked upon for her sex symbol status.
Best British single was presented by Katy Perry who had changde into a plunging gold embossed sequined dress which covered her shoulders with her short black bob and matching heels. It certainly showed off her best asset! She had matching bangles.
The nominees the best British single are
Rudimental featuring Ella Eyre, Waiting all night
Calvin Harris featuring Ellie Goulding, I need your love
Disclosure feat Aluna George, White noise
Bastille with Pompeii
Naughty boy featuring Sam Smith with Lala lah
Olly Murs with dear darling
Passenger with the let her go
John Newman, love me again
Ellie Goulding, burn
One Direction, One way or another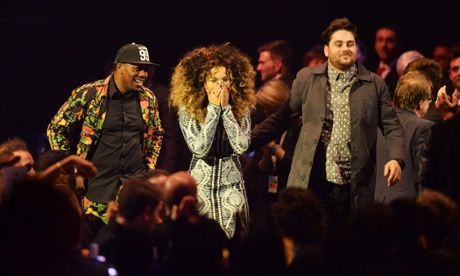 The winner is Rudimental waiting all night featuring Ella Eyre. It went to number one in April 2013 feet amazing vocals of Ella Eyre. Which was her breakthrough track. The guys are very, very happy and didn't wear normal suits DJ wore a crazy suit is bright with yellow and Ella looked stunning in a short, long sleeved silver dress especially for the evening with her curly hair hanging loose. Ella was clearly absolutely amazed with a closer look at the Ella's dress it has a leopard snake skin sort of look with blended and contoured cuts and colors.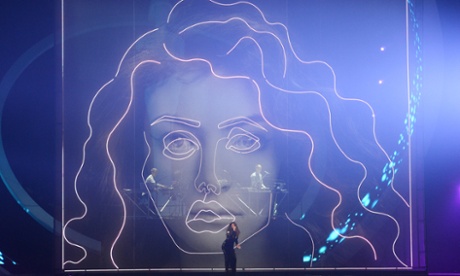 After a quick break James Cordon welcomed Disclosure and Lorde, the first collaboration in the UK and her first live performance on live TV in the UK.
Lorde Performed 'Royals' in a floor length long sleeve gown that was black and shimmery in front of a massive blank picture of her and Disclosure behind it.
Her hair was naturally left down and Lorde brought her eclectic energy to the stage.
Disclosure remixed as she approached the chorus of 'Royals' it was a weird sort of trance vibe. Sometimes a little bit messy, each individually was doing everything to a high standard, but combined it needed a little bit of a touch-up.
I'm not sure what my opinion is on the remixing live but I really am a massive Lorde fan and I could just watch her perform all day every day and that black lipstick is looking so dam good. The performance was captivating and different as you didn't quite know where it was going to go next.

Unpredictable (which I think was what they were going for) it was then remixed into white noise and Lord disappeared off stage. Aluna George appeared for white noises wearing a white see-through baseball top and high waisted white shorts with white wedge trainers / clump heels.
There was then some sassy dancing from the woman in White. She was dancing like a kid in a bedroom, very excitable.


I cannot get over how little Lorde featured in that segment. How ridiculous; you fly and artist halfway around the world for them to do 30 seconds. Unbelievable you should be showcasing. URGH. rant over.



International group
Nicole Scherzinger presented the award. She wore a cape on top of a cropped top and bondage grunge sort of black brace thing that attached to her bralett with gold accessories. High waist back trousers.Some bad jokes are exchanged.

Here are the nominees for Internarional Group.
Daft Punk
Haim
Kings Of Leon
Arcade Fire
Macklemore and Ryan Lewis
The winner is Daft punk, they couldn't be there so Nile Rodgers accepted the award on daft punk's behalf. Nile Rogers did an epic speech; short sharp concise ,thanked everybody who needed to be thanked and made people have a little bit of inspiration from the evening, he left with the phrase
I think we got lucky!
James Corden continued with inappropriate jokes and interrogated
Kylie
on who she fancied now that she is single. I would feel awful if the entire world new I was single. I love James Corden but I think the script needed work.
Ellie graced the stage in a white outfit, white headed outfit with a plunge front and then a ballerina skirt with matching white guitar it's kind of like Taylor Swift meets a grunge white gangster with a bridal thing also going on.


Ellie sung 'I need your love' acoustically with a white grand piano being played behind her. Her vocals fresh and loving and then the lights beamed across the O2. The lights lit up the stage and dancers appeared, she removed the hooded jacket and revealed a bra and high waisted shorts that were incrusted in Gold studs.
Considering Ellie's got a really high voice she's got such control over it, she's really put her own stamp on her music It's unique and different and she performs live like a trooper even getting down to grind a little; but not, in no way Miley Cyrus style. Ellie wore Doc Martains to finish off the urban look.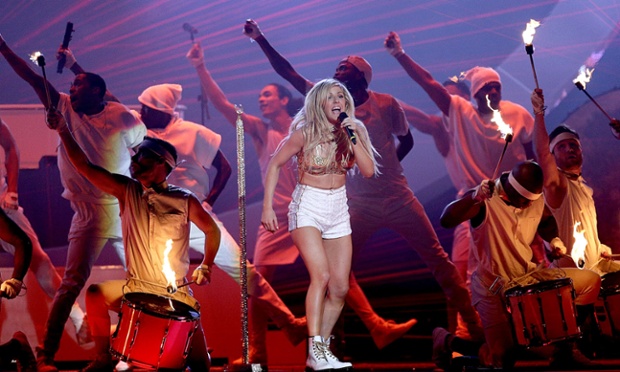 Ellie loves a good banging on the drum and as a drummer she always somehow incorporates it into her performances. She really lets loose in the moment then her dancer followed the drumming action and ran to the beat to join Ellie in a line and synchronized their drumming.Then fire appeared on the stage and everything went quiet, after that and big actions from the light the dancers filled the background.The dances then continued to set their drums on fire.

Ellie Golding is incredible
Best British male was presented by Noel Gallagher
Jake Bug
Tom Odell (I love him)
James Blake
John Newman (I also love him, cheating is the best music video ever)
David Bowie
And the winner is...
David Bowie,
Kate Moss picked up the award on the half of David Bowie. Kate wore a top, oh no it's a swimsuit, leotard thing tights and heels. Kate was wearing the same costume David Bowie has worn. She was a little worse for wear, a little bit drun. So drunk she forgot to take the award with her off stage.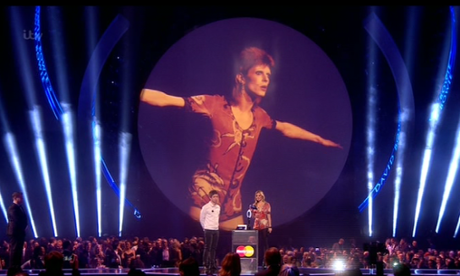 The best international female award was presented by Nick Grimshaw. Sure, sure he looked super smart he looked really proud to be there actually and he's worked hard to be there. I'm a big fan of Nick. James Corden kissed Nick Grimshaw very out there and totally unnecessary.
International female artist are
Katy Perry
Pink
Lorde
Lady Gaga

The winner is Lorde. Nick Grimshaw said she looked very happy. Ella who is Lorde even managed to go the wrong way towards the stage. She still very starstruck.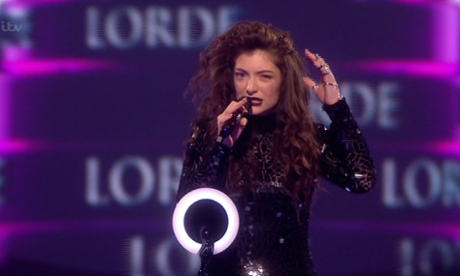 She really is bigger than she ever dreamed
Lorde is an incredible, incredible young woman. She is always polite and healthy and she thanks everyone else in the category of the inspiration and healthy competition which is complete quality and it's unusual someone so young and someone so new to be industry to be so humble.


THIS BIT IS STILL TO EDIT SIRI WROTE IT.



Jimmy Carr came on to announce the winner of video of the year, he continued thw theme of poor and inappropriate jokes, Poor form, keep it real.
The nominees are:
Ellie Golding, Burn
John Newman, love me again
Naughty Boy featuring Sam Smith, Lala Lala
Calvin Harris featuring Ellie Goulding, I need your love
One Direction, best song ever
One Direction won video of the year as voted by fans on twitter. Best song ever was co-written by James Corden which I did not know. Harry Styles was very pleased to see Jimmy Carr. Liam once again took the role of speech maker and passed it over to Niall and Harry, They thanked Ben Winston who was the video director. The video had ever 205 million views on YouTube.
Bastille and Rudimental
performed together as a collaboration project. Mixing live, which is incredible. The groups look happy to be in the Iconic venue and be performing together.

The vocals were so good, I wondered if there were live and they definitely were. The mash up was wicked. Ella Eyre appear out of bloody nowhere in a very revealing catsuit that was looking hot. Black cat suit was long sleeved she wore with silver trainers and silver bangle stripes on the catsuit the plunging V neck was obviously tied and taped down as she jumped off the stage with DJ.
The staging housed all band members and it was built like plastic blocks all built up upon one another and how anybody saw where they were stepping is beyond me, because it was all see through. Looked very dangerous. Que health and safety.
They jumped off the stage did a sort of band slide and looked incredible.
Both bands really enjoyed the performance; it was a fantastic representation of British music and new artists that are emerging and breaking the barriers of current music and the genres. They couldn't believe their luck.
Emeli Sande announced album of the year and presented it in a black split side dress with a shawll granny style bomber jacket over the top, it was purple, turquoise and green striped.
Album of the year:
David Bowie, The next day. Nobody knew he'd recorded and album leading and he was writing
Rudimental ,Home. Rudimental Road home as it music is music not as a genre or a club record its all about the music inspired by the home town of London.
Arctic monkeys with the album AM
And the winner is the Arctic monkeys and they don't seem fazed or bothered and the cocky shit that is the band leader really gets on my tits. He thinks he is all that and there are people who really, really wanted to win that award, who really have had to work hard for it and this bloke just doesn't even seem to care. Like it doesn't bother him, not bothered not bothered.

He Is rude and ignorant his speech was full of mumbo-jumbo didn't make any sense whatsoever. Sweetheart this is not 1984 nomore you can't get away with hair like that any more.
Why the other three didn't say anything or take the mic off him is beyond me!


He is also chewing gum on ITV which I really dislike. Got to be drunk. They didn't even greets Emeli Sande which is rude, really rude.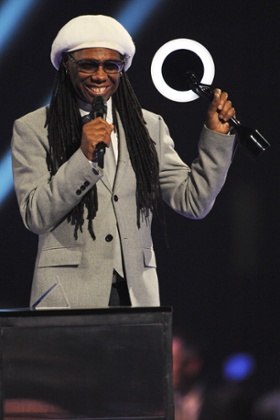 Nile Rodgers and Pharell Williams closed the show at the O2 arena in London the Brit awards 2014 which are now over.




Starting with a rendition of Get Lucky Pharell donned his hat and got down to dance. They then performed Good Times with backing dancers dressed in brown swag leggings and popping to the beat.

Happy was perfomed; his number one single from his album will be released later this year but out for preorder now 'girl'




50 style dancers then joined the stage along with a massive gospel choir that clapped and sung along.




Dancers then danced all the way up the aisles, a real show finish. Strobe lighting went all across the 02 and balloons fell from the sky to match the colours of the set of the Brit awards at the O2 the balloons were Orange.




That's it for another year folks.




I hope you liked my breakdown!
Love you lots,

Clo :- ))

Like, leave a comment and respond :3


Hello I'm Clo come say hello …

YouTube Channel http://www.youtube.com/user/HelloImClo
Twitter http://www.twitter.com/chloetomalin
Blog http://helloimclo.blogspot.co.uk/
Facebook http://www.facebook.com/helloimclo

Follow me on BlogLovin' http://www.bloglovin.com/helloimclo

Labels: Aluna George, Arctic monkeys, Bastille, beyonce, Brit Awards, bruno mars, disclosure brits, ellie goulding, Emeli Sande, Katy Perry, Kylie, lily allen, lorde, One Direction, royals